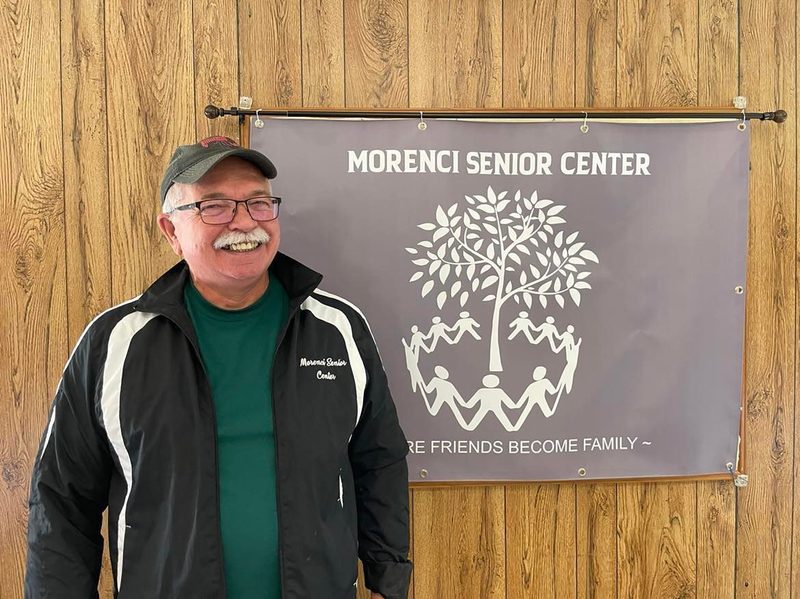 The Morenci Senior Center welcomed a new Director this month after the retirement of Kym Ries. Jimmie Garland, of Adrian, applied for the position after working for the Promedica Veggie Mobile and finding that Morenci was his favorite stop. Garland said, "The seniors are warm and I always felt welcome here, so I chose this center over Tecumseh, which is a lot closer to my home."
Jimmie worked for 35 years at Hydro Aluminum before they closed. He then went on to earn an Associate's Degree in Culinary Arts and Hospitality Management. After college, he was an adjunct teacher of culinary classes and became an assistant culinary arts teacher at the LISD Tech Center. He continues to work as the Chef at the Holley Institute, which is a facility designed for the hearing impaired.
Jimmie is excited to help the center grow and add bread baking classes to the list of senior activities. "A common misconception is that the meals are for low income," he said, "but they are for anyone. The center is an excellent place to come socialize, work out, play games and enjoy a very good nutritional meal."
Morenci Senior Center is located at the Trinity Evangelical Lutheran Church, 800 West Chestnut Street, in Morenci. It is open Monday through Friday 9:30 a.m. until 2:00 p.m. Lunch is served from 11:30 a.m. until 12:15 p.m. at a cost of $3 to all individuals 60 years of age and older.
For more information, visit the Morenci Senior Center website or Facebook page.